The First State Mini Club (FSMC -- NAME Chapter C-150) was chartered in 1977 by Betty Lee and Lyt Patterson of New Castle, Delaware. About twenty people attended the first meeting at their home in December, 1976. That home has since been replicated in 1" scale and was donated to the Delaware Historical Society in 1998.
The First State Mini Club continues to grow and thrive. Our monthly meetings, which are in person in the fall and spring, usually include tutorials or workshops, show-and-tells, and giveaways. We meet at the New Castle Senior Center, from 7-9 PM usually on the third Thursday of the month. We also hold Zoom remote get-togethers during the summer months and deep winter (January and February).
We have field trips and outreach programs. These have included library exhibits, Crafternoon at Winterthur, Girl Scout badge-earning events, and visits to a nursing home to complete a small project. Our annual Show and Sale (#47 in 2024) provides enthusiasts from several states with make-and-takes, exhibits, many vendors, and yard sale tables.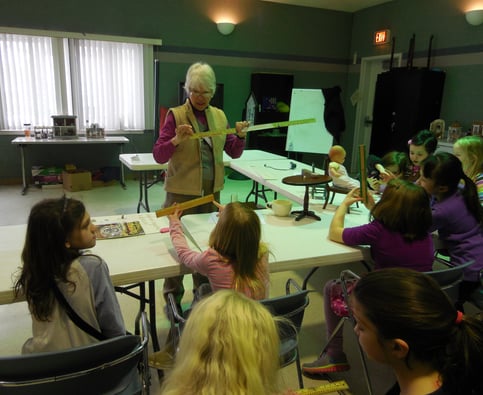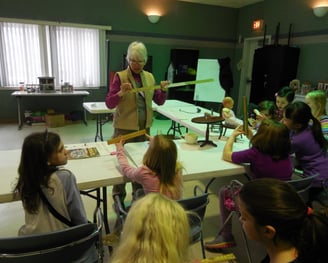 Wanda is explaining the concept of scale here at one of our many outreach Girl Scout programs.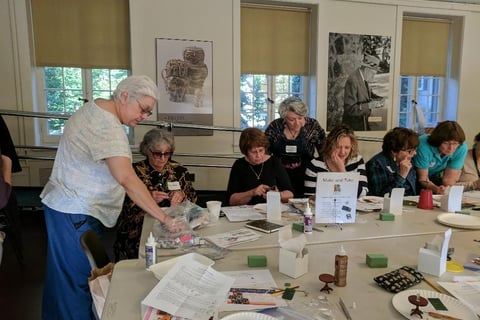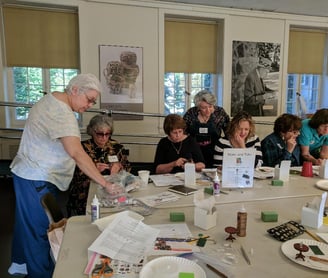 Joan, Marnie, and Angie teaching a workshop at Winterthur